On the subject of testing God, Luther writes:
Deuteronomy 6 teaches us to trust that God will take care of us in good and bad times. We shouldn't become overconfident in times of plenty, but we also need to patiently endure times of adversity. God will never leave us. He will be near us in our . . .
August 18, 2008
After several months off, I'm feeling the bug to begin writing again! Let's see how it goes this time...
August 18, 2008
I'm tired of blogging, at least for now. My time, it appears, would be better spent reading or writing in other venues, so at least temporarily I'm taking a break. Maybe for a week, maybe for a month, maybe forever. I've got these words running through my head and can't offer up an argument to refute them, so . . .
May 06, 2008
It has been almost three months since we've had any a-musement around here!!! So here's my favorite T-mobile commercial of all time...probably because I see this conversation happening around our dinner table in about 7 or 8 more years:
[youtube=http://www.youtube.com/watch?v=ZUHT-p8svkc]
Disclaimer: I have no . . .
May 02, 2008
Thank God there are some real role models left in the sports world...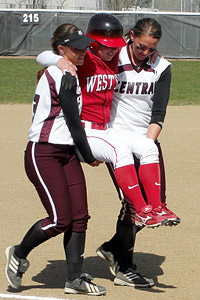 I've railed against poor role models in sports in the not too recent past, but I saw this story today that gives me real hope. This event will doubtless fail to receive the amount of media attention it should, and those who read about these two ladies will . . .
May 01, 2008
With respect to Reformed and Lutheran differences in understanding, Dr. Gene Veith has made some interesting observations about the significance of Christ's ascension into heaven. He writes:
It's odd that the significance of Christ's ascension is taken in two opposite ways: The Reformed say that it means Christ is . . .
May 01, 2008
This morning (here), Josh has made some keen observations on the differences between Lutheranism and contemporary American Evangelicalism. While he specifically points out the differences as those between Lutheranism and 'what goes on at a megachurch,' his points are spot on with respect to the larger world of Evangelicalism as a . . .
May 01, 2008